Bienvenue chez / Welcome to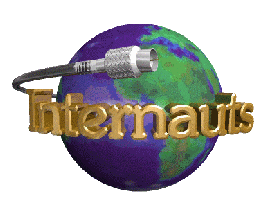 Bienvenu à la page WWW d'Internauts.
Nous vous prions d'être patients pendant notre période de développement. Merci!
Welcome to the Internauts home page.
We hope that you will be patient because this server is under development. Thanks!


Ces pages seront écrites pour les fureteurs du HTML 3.0 WWW. Si vous n'avez pas de capacités graphiques, veuillez utiliser nos pages de texte. (Malheureusement, elles ne sont pas encore prêtes.)



Pour de plus amples renseignements à propos des services Internauts, veuillez envoyer votre courrier électronique à admin@internauts.ca, ou appelez-nous au 514-620-5858 ou envoyez un message par télécopieur au 514-620-8911. Si vous avez des problèmes ou des com mentaires à propos de notre service, veuillez envoyer un message par courrier électronique à www-info@internauts.ca.



These pages are being written for HTML 3.0 WWW Browsers. If you have no graphic capability, please use our text based pages! (With regret, these are not yet prepared.)



For information on Internauts' services, please send e-mail to info@internauts.ca, phone us at 514-620-5858 or FAX your request to 514-620-8911. If you have problems or comments concerning our WWW service, please send e-mail to www-info@internauts.ca.


---
This page, and all contents, are Copyright© 1999-2000 by Internauts Inc., 3883 St Jean, #600 DDO QC H9G 3B9.